The locals of Plainfield, Wisconsin referred to Ed Gein as "Weird old Eddie." The handyman, who was born in La Crosse County, had begun to develop an extremely and unhealthy interest in the anatomy of the female body . That bizarre fetish was fed by his love for medical encyclopedias, books on anatomy, pulp horror novels and pornographic magazines. This fascination grew and then Gein soon began digging up decaying female corpses in Wisconsin cemeteries. It has been documented in numerous articles around the web, that he would dissect and keep parts of heads, sex organs, livers, hearts and intestines.  Seemed he was especially fascinated by the female genitalia, and of course! Our beautiful peaches are as soft and delicate as such. But not in the way he saw them. He would fondle and play with dissected labias, stuffing them into a pair of women's panties, which he would then wear around the house- Not an image I want burned into my head. I like to think the term "Weird old Eddie" is slang for twisted fuck.
After some time, Gein became less satisfied and began to seek out fresher samples. His victims were usually women of his mother's age. One in particular named Mary Hogan- aged 54, disappeared from the tavern she ran in December of 1954. Another, Bernice Worden, a woman in her late fifties who ran the local hardware store, disappeared in November of 1957. As fate would have it, Mrs. Worden's son Frank, was also the sheriff's deputy. Upon learning that Ed Gein had been spotted in town on the day of his mother's disappearance, Frank Worden and the sheriff went to check out the lovely old Gein place. What they found was an unspeakable horror and a gruesome collection of human flesh objects. Here are just a few images of the horrifying discoveries found in the nightmare farmhouse.
*Graphic Content*
Upon entering a shed on his property, they made their first horrific discovery of the night: Bernice Worden's corpse. Her decapitated body hung upside down by ropes at her wrists and a crossbar at her ankles. Even more disturbing was the discovery of her body being hollow, the ribcage split and the body "dressed out" like that of a deer.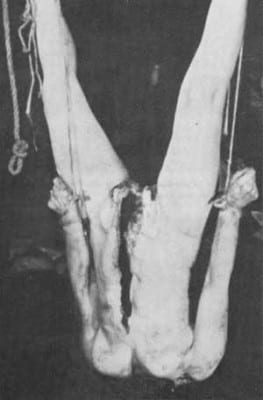 The head of Mary Hogan was also discovered in a box.
Now.. Here is where it really starts to get weird…
Apparently Gein used these skulls as soup bowls. Campbell's anyone?
Human skin lampshade (this is a replica prop from World Of Arts, but you get the idea)
An apron made from human skin (authenticity unknown)
Human skin gloves
What a lovely gathering of knick- knacks. The face mask is quite the conversational piece, yes?
On July 26, 1984, Ed Gein died of respiratory and heart failure due to cancer in Goodland Hall at the Mendota Mental Health Institute. All nipples everywhere sighed a huge breath of relief.