Thumbs Are Being Crafted Into Real Thumb Drives
Scroll down the timeline of artist Shishido Mazafaka's Instagram page and you will see that at one point he was just a DJ promoting his musical craft. But then as you get to more recent posts you'll notice something strange — a collection of photos that feature body parts used as practical tools. Things like wallets, USB thumb drives, and ink stampers. It's a bit jarring to look at, especially when the items are literally looking back at you — and blinking! These are his trendy creations made of silicone and a secret recipe.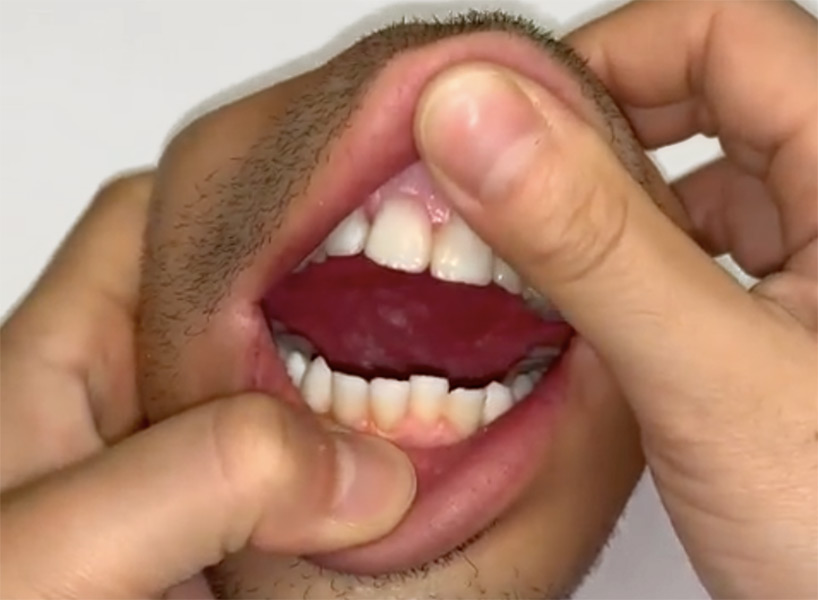 And before you start letting your mind swerve into the gutter, Shishido's products are made for things like storing money or data. Some are just weird conversation pieces like cell phone cases and soft fleshy blocks that have a blinking eye. That being said, if you want to shell out the money, what you do with your fake, disembodied finger is your business.
"In the beginning almost everyone felt it was gross," Shishido, 36, told Reuters. "Once people learnt that it's an artwork with some specific function, they started saying that it's cute and interesting."
The artist mostly creates special-order items that are requested by fans who tell him what they want. He then goes to work planning out the design and, working with Amazing Studio JUR, which makes them a reality.
But they aren't cheap. A single-finger stamp starts at $1,166.
As these trendy body parts become more and more popular there is no telling what Shishido will think up next.
Spirit Halloween Unveils 'Horror Babies' Including Ghostface, Pennywise, and More
Spirit Halloween is unveiling the goods a bit earlier than usual this year. For example, these little horror babies that give us infantile versions of Ghostface, Leatherface, Pennywise and Sam from Trick r' Treat. We were already excited when they announced all-new Killer Klowns From Outer Space items, but these horror babies are making sure that they bring the goods even earlier.
The breakdown of Spirt Halloween Horror Babies goes like this:
Horror Babies are looking fantastic and bring that very cool bit of nostalgia with them. From Ghostface to Pennywise the lineup is looking fantastic.
Each of these hauntingly adorable Horror Baby is available for purchase for $49.99 on SpiritHalloween.com, now while supplies last.
'Talk to Me' A24 Trailer is Chilling Us to the Bone With New Approach to Possession
The very chilling, Talk to Me reinvents the possession genre by turning the entire genre on its ear and dropping the beat on the terror. Each moment spent in the trailer is very intense and full of atmosphere.
There is a bit of Breakfast Club combined with this intensely moody possession thriller.
The synopsis for Talk to Me goes like this
When a group of friends discover how to conjure spirits using an embalmed hand, they become hooked on the new thrill, until one of them goes too far and unleashes terrifying supernatural forces.
The film stars Sophie Wilde, Miranda Otto, Alexandra Jensen, Joe Bird, Otis Dhanji, Zoe Terakes, and Chris Alosio.
Talk to Me arrives July 28, 2023.
Nicolas Cage Plays a Very Wicked Devil in 'Sympathy for the Devil' Trailer
Joel Kinnaman plays alongside the very wicked Nicolas Cage! Why so wicked you ask? Well cause this time around he is playing none other than the devil himself and he is bringing all of his wicked charm and red hair with it. That's right, the first trailer for the very off the wall Sympathy for the Devil is here.
Okay, is he really the devil? Well, you are going to have to watch to find out. But, it doesn't change the fact that this whole thing looks like its a blast out of hell and a ton of fun.
The synopsis for Sympathy for the Devil goes like this:
After being forced to drive a mysterious passenger (Nicolas Cage) at gunpoint, a man (Joel Kinnaman) finds himself in a high-stakes game of cat and mouse where it becomes clear that not everything is as it seems.
Sympathy for the Devil arrives July 28, 2023!