Horror was hot in the '80s. Slashers, possessions, werewolves, ghosts, demons—you name it, the '80s had it! 1981 was the year we saw two iconic killers get a sequel, the beginning of the slasher trend, and not one but four werewolf movies. As we wait for new horror films to be released, I thought it would be the perfect time to take a look back at these classic horror films. These are just some of the horror movies turning 40 this year.
Scanners (1981)
There are 4 billion people on earth. 237 are scanners. They have the most terrifying powers created… and they are winning. Their thoughts can kill. David Cronenberg's literally mind-blowing sci-fi horror film about people who can read minds, transmit brain waves and kill by concentrating on their victims.
In the film, "scanners" are people with telekinetic and telepathic abilities that can cause an enormous amount of pain and damage to their victims. ConSec, a source for weapons and security systems wants to use "scanners" for their own diabolical plan.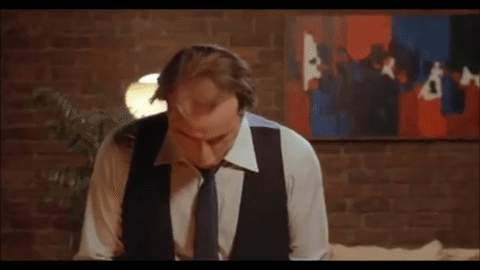 Scanners is a must-see 80's film mainly for its jaw-dropping head exploding scene. Scanners is Cronenberg's journey into the workings of the human mind. After 40 years Scanners is still as shocking and thought-provoking as it was in 1981.
The Howling (1981)
1981 was the year of the werewolf movie with Full Moon High, Wolfen, and American Werewolf in London all being released within the same year. But the first to kick off the year of the werewolf was Joe Dante's The Howling.
Breaking away from traditional werewolf movies, The Howling finds television news reporter Karen White (Dee Wallace), traumatized after a deadly encounter with serial killer Eddie Quist. In order to help cope with her trauma, Karen is sent to a remote retreat called The Colony, where the residents may not be entirely human.
This werewolf classic combines just the right amount of horror and tongue-in-cheek humor along with some impressive werewolf transformation effects. Originally not a success, it has become a classic in its own right.
My Bloody Valentine (1981)
Back in 1981, no holiday was safe, as the holiday slasher trend was just emerging with films like Halloween, Friday the 13th, and Terror Train dominating the box office. Valentine's Day was no exception.
Set in a small mining town, My Bloody Valentine centers around a town haunted by the legend of Harry Warden, a miner who is dead set on killing anyone who celebrates Valentine's Day. As that day approaches, hearts in boxes arrive and bodies begin to pile up. The real mystery is, has Harry Warden returned, or has someone picked up where he left off?
A lean and mean slasher that goes straight for the heart, My Bloody Valentine doesn't skip out on the gore and disturbing imagery. The filmmakers used an actual mine which gave the film another element of fear. In the end, My Bloody Valentine is a bloodcurdling thrill ride that keeps you guessing right up until the end.
The Funhouse (1981)
Funhouses can make you laugh and scream. They can be weird and obscure. And no one does weird and obscure better than Tobe Hooper. After successes with Texas Chainsaw Massacre and Salem's Lot, Tobe Hooper returned to the slasher genre with his 1981 underrated slasher gem, The Funhouse; a dark, violent film that goes on a wild journey into the world of the macabre.
Taking place at a traveling carnival, two couples decide to spend the night in a funhouse. Once locked in for the night, they witness a murder committed by a deformed carnival worker wearing a Frankenstein mask. With no way of escape, the foursome must fight for their lives as they are picked off one by one.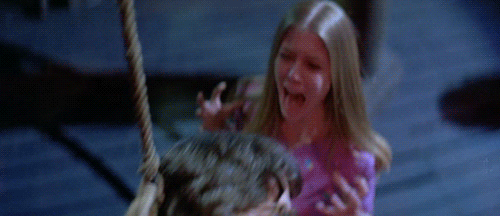 The Funhouse stacks up with other slashers such as Texas Chainsaw and Halloween, its clever and fun with unnerving sequences that lead up to a brutal final act. It doesn't get much better than this disturbing early 80's slasher.
Friday the 13th part II (1981)
The Friday the 13th franchise dominated the 80's. Coming off the heels of the original, Part II has a new set of counselors being picked off by a mysterious killer. But (spoiler alert) with Mrs. Voorhees dead who is killing the new counselors at Crystal Lake?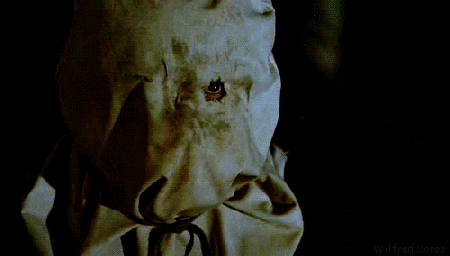 This entry saw the proper introduction of Jason after only appearing in a dream sequence at the end of the original. No explanation is given on how Jason is alive, as he was known to have drowned as boy, but do we need an explanation? This is a Friday the 13th movie after all. We have some iconic kills, baghead Jason, and a strong and resourceful final girl, what more could you want from a Friday the 13th film?
The Burning (1981)
After the release of the original Friday the 13th there was a slew of imitators but The Burning is no imitator. After a prank gone wrong, a summer caretaker is horribly burned and left for dead. Years later, he returns seeking revenge on the ones who wronged him.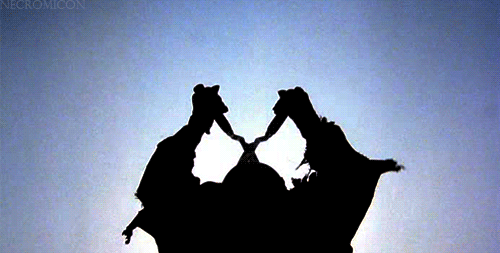 At first glance, The Burning looks like a Friday the 13th rip-off with a similar plot: a camp being terrorized by a vengeful killer. The Burning is more suspenseful, atmospheric, and vicious.  The Burning is slasher perfection with its ruthless and savage kills including the film's infamous raft scene done by special effects genius Tom Savini. Often overlooked, The Burning is a smart and effective slasher that is finally getting the recognition it deserves.
An American Werewolf in London (1981)
Considered one of the greatest werewolf movies of all time, An American Werewolf in London, tells the story of two American backpackers who are viciously attacked by a werewolf. Leaving one dead and the other doomed to become one himself.
There's no doubt that An American Werewolf in London is one of the most iconic werewolf movies of all time. Ranking right up there with Lon Chaney's Wolfman and Joe Dante's The Howling.
The film revitalized the werewolf genre with its ground-breaking werewolf transformations created by Rick Baker and features some of the best werewolf attacks captured on screen. After 40 years, the film is still beloved for its off the wall humor and special effects while also paving the way for other genre films like Ginger Snaps and Dog Soldiers.
Evil Dead (1981)
One of the crazier, and more creative films to come out of 1981 was Sam Rami's The Evil Dead.
Sam Rami's debut film, The Evil Dead focuses on five friends vacationing in an isolated cabin. After they arrive, they find an audiotape along with a book called the Necronomicon (Book of the Dead) that unleashes unspeakable evil.
Undoubtedly one of the scariest films of all-time, The Evil Dead is a relentless film involving demonic possession, a gratuitous rape scene involving a tree, beheadings, mutilations, gore – what doesn't this movie have?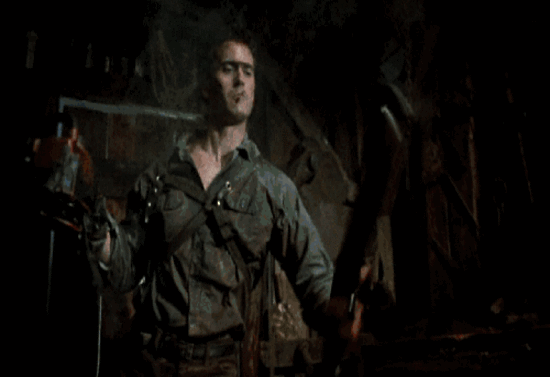 This low-budget masterpiece shows us what you can do with an innovative idea, very little cash, and some ingenuity.
Halloween II (1981)
After Halloween was released in 1978 it would be another three years before we would see Michael Myers slash his way through Haddonfield. Picking up minutes after the original, Halloween II has final girl Laurie Strode (Jamie Lee Curtis) rushed to the hospital after her encounter with Michael Myers.
Replacing the suspense with gore, Halloween II is still undeniably scary. Memorable kill sequences involving a needle to the eye, a stabbing in the back with a scalpel while being raised off the ground and boiled to death in a hydrotherapy tub. Halloween II also introduced a story element that would carry on through the rest of the franchise until 2018's Halloween that Laurie is Michael's sister.
Ghost Story (1981)
After a year of werewolves, demons, and slashers it was a nice change of pace when Ghost Story was released in 1981.
Based on the Peter Straub novel, Ghost Story revolves around four old friends, who meet every year to tell ghost stories. When one of their sons mysteriously dies before his wedding, a ghostly apparition of a woman appears. The four old friends have to piece together one final story but unraveling this ghost story may be the scariest of them all.
Rounded out with a legendary cast, Ghost Story is a beautiful and frightening tale wrapped with mystery and romance. Evoking atmosphere and mood, Ghost Story is a love letter to gothic horror that still haunts after all these years.
Other horror films released in 1981:
Graduation Day
The Prowler
Happy Birthday to Me
Madhouse
Road Games