There is No Cure for 'The Walking Dead'
Written by Tori Danielle
By now, any fan of The Walking Dead series knows that there is no escaping the disease of becoming one of the Walkers. Whether you're bitten by one of them or die… you will turn into one of the things you hate most. But is there ever going to be a cure?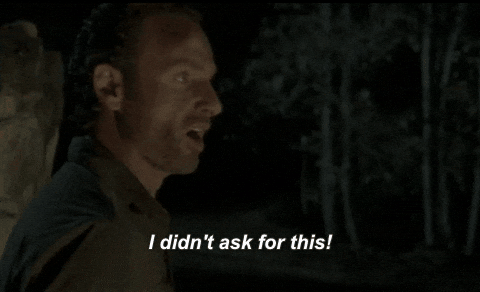 With ever zombie story, they go about it a different way. Sometimes there's a cure for an infectious disease while others just have to keep killing. We've often wondered if there would be a final resting point for the characters of The Walking Dead, in which they no longer have to run and fight off the Walkers. During a panel at Comic-Con, a fan asked Robert Kirkman if there was ever a chance that a character would be immune or that a cure would be found to end this continuous madness. The answer… no.
According to Joblo, Kirkman stated:
"No and no," Kirkman responded, adding that he thinks it would ruin the mystique of the show to introduce a cure or immunity. He also said he liked that these are characters who would not go looking for a cure (though of course they did at the very beginning); they're stuck with this situation and just have to deal with it.
Honestly, I always thought there would be a cure at some point. I often envisioned the series ending with them find a cure and finally at peace. I guess I was living in Lala land though because that's not happening. The thought of them always having to face another Walker, another bad group of people, another death… is hauntingly depressing. I guess there's no rest for the wicked.
Meanwhile, if you haven't checked out the official comic-con trailer for Season 8 of The Walking Dead, do it now! The trailer is down below and it looks brutally intense as per usual! "I hope you have your shitting pants on." Premiering on October 22nd!
https://www.youtube.com/watch?v=3l82kiUvnKM
'Final Destination 6' Coming to HBO Max From 'Freaks' Filmmakers
Freaks filmmakers, Zach Lipovsky and Adam B. Stein have been brought on board to direct an upcoming Final Destination 6 for HBO Max. Jon Watts is on as producer with Lori Evans and Guy Buswick as writers.
"I will say that it's not just going to be another kind of 'we set up a group of people, they cheat death, and then just death gets them.' And there's one wrinkle that we kind of added to every movie to kind of like change it up a little bit: this one is… a true Final Destination movie, but it doesn't follow that kind of formula that we've kind of established." Jeffrey Reddick told Dread Central.
The synopsis for the first Final Destination went like this:
Alex Browning (Devon Sawa), is embarking on a trip to Paris. Alex experiences a premonition — he sees the plane explode moments after leaving the ground. Alex insists that everyone get off the plane and 7 people including Alex, are forced to disembark. All watch as the plane actually explodes in a fireball. He and the other survivors have briefly cheated death, but will not be able to evade their fate for very long. One by one, these fugitives from fate fall victim to the grim reaper.
We will keep you updated on all things Final Destination.
Stranger Things Season 4 Blooper Reel
As part of the TUDUM: A Global Fan Event releases, Netflix has given Stranger Things fans a nice little treat. I'm a huge fan of behind-the-scenes and blooper reels! I loved seeing the characters we know so well break the 4th wall when overwhelmed with a case of the giggles. Even the powerful Vecna couldn't escape landing on the Stranger Things season 4 blooper reel!
Watch our favorite actors break character in this brand new blooper reel below. 🤣
We also found some other behind-the-scenes videos from Stranger Things Season 4 that we thought you would like. With the news of Stranger Things Season 5 being the end of the series, we're watching all these videos before we have to say our final goodbye. I don't think we're ready for this story to end. 😭 Until then, have a laugh with our friends from Hawkins, Indiana!
'Cloverfield' Film Finds a Director To Helm Next Entry
We have seen an incredible three Cloverfield-based films so far. The latest being Cloverfield Paradox on Netflix. The latest in the series also managed to lose steam for the secretive franchise. It went too far into the explanation of secrets that we had seen in the first two films. Once the wizard is discovered behind the curtain the game loses its momentum and fun. The upcoming Cloverfield film has found its director from Under the Shadow's Babak Anvari.
The director's Under the Shadow was a great piece of horror. It was entirely effective in its scares and story.
There is no word on where the fourth Cloverfield film will take audiences. But, that is for the best. These films have always been shrouded in secrecy and that is what has made them fun. Well… the first two films anyway.
The synopsis for Cloverfield went like this:
As a group of New Yorkers (Michael Stahl-David, Mike Vogel, Odette Yustman) enjoy a going-away party, little do they know that they will soon face the most terrifying night of their lives. A creature the size of a skyscraper descends upon the city, leaving death and destruction in its wake. Using a handheld video camera, the friends record their struggle to survive as New York crumbles around them.
We are happy to see that Anvari is going to helm this entry. We can't wait to see what he brings to the franchise and to see what direction this entry takes.
What has been your favorite Cloverfield chapter?