These Horror VHS Lamps Are a Must-Have for Retro Horror Fans!
Written by Patti Pauley
Ever sit in bad late a night trying to read your favorite Stephen King novel all the while trying not to disturb your partner? Of course, I know they make book lights, those weird headset lights, and all those other illuminated contraptions for such a problem. But these are just way more fun than an uncomfortable hunk of metal on your head, and frankly, wicked cooler as well. Behold, the Horror VHS Lamps!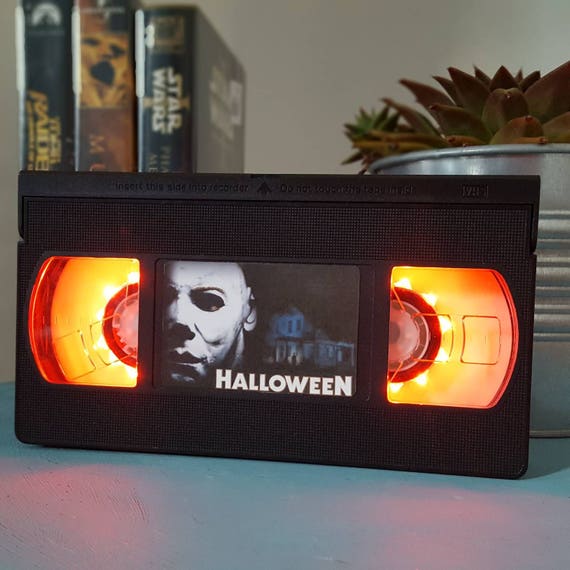 Constructed by Etsy seller NancyJars (Hayley Summers), these customized glorious VHS cassettes are repurposed into table-top night lights perfect for any retro lover of pop culture. Each lamp is uniquely made per the buyer's choice as you can customize one of your very own regarding the front cover, choice of colored lights, and when requested, will use an original VHS for that ultimate retro feel.
What's even better is that the lights are battery powered LEDs and are completely safe and heat free! So if you're buying one for a child's room, a bit of extra reassurance for you. Check out below a sample of what's currently available from the UK based Etsy shop, or contact the store directly by clicking here to get one customized just for you!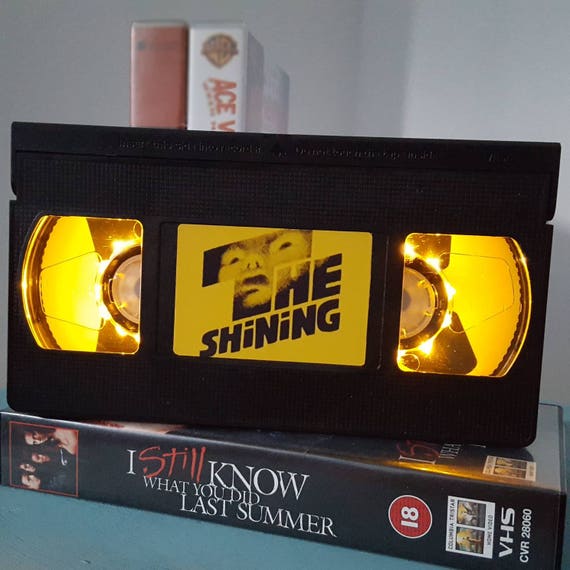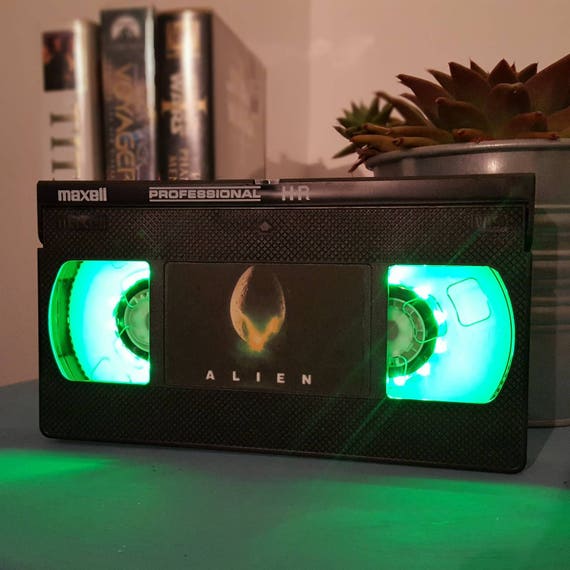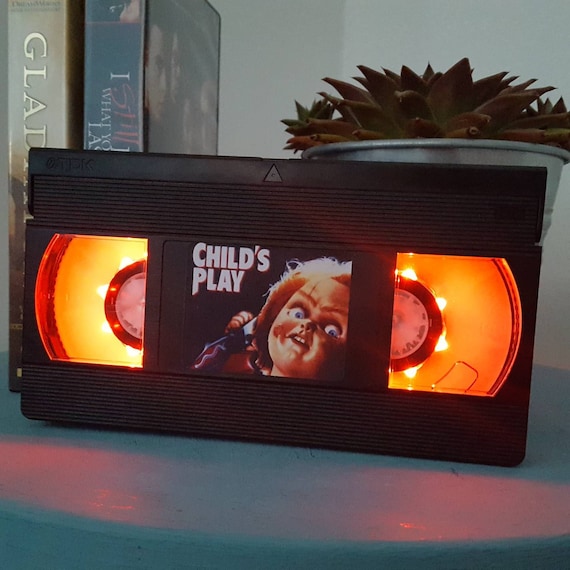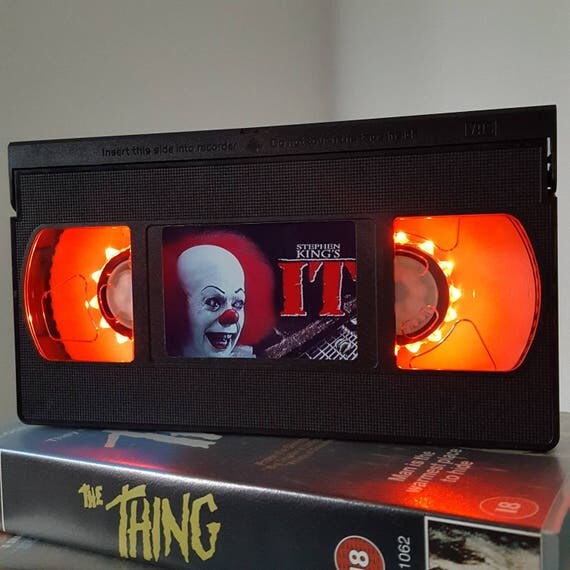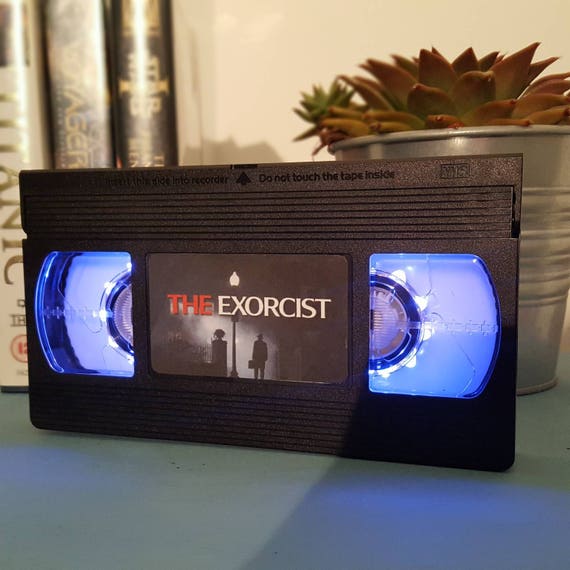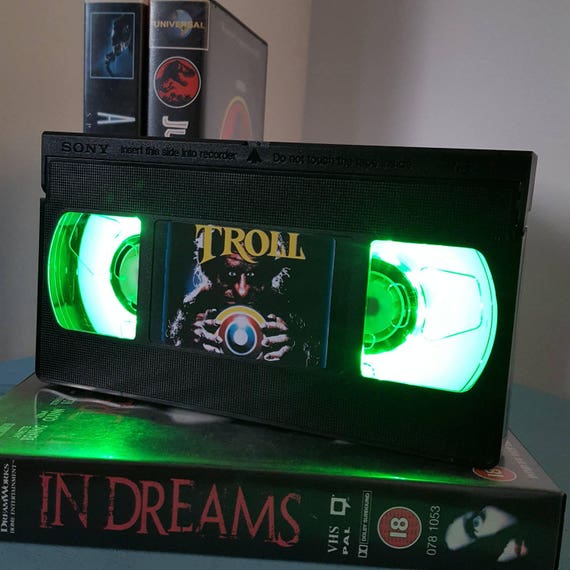 I really don't think I could pass up this gem.
'Ghostbusters: Spirits Unleashed' Trailer Lets You Play as a Ghost or Suit Up and Form Your Own Crew
Today, Illfonic gave big details on a game that had been teased earlier in the year. That's right, Ghostbusters: Spirits Unleashed is on its way to PC and Consoles this fall. The game will be a huge immersive multiplayer and single-player experience. In the game, you will be able to side with the ghosts becoming several iconic spectrals including Slimer. In addition to playing as a ghost, you can become a Ghostbuster, suit up in totally custom suits and bust ghosts using proton accelerators.
Use classic equipment as well as new untested gear, while you travel through New York visiting spots that were popular in the films and beyond. Cause, not only is the game pulling from the films, it is also grabbing characters and locations from The Real Ghostbusters.
Work with Ray, Winston and the guys in order to become the best Ghostbuster that you can be. The only question is, are you ready for mass hysteria? Cats and dogs living together? We are too. Let's get to bustin'.
If you digitally pre-order the game it gets you a playable Slimer, a custom particle thrower and proton pack, and special clothing colorways.
The synopsis for Ghostbusters: Spirits Unleashed goes like this:
Form a team with up to three other Ghostbusters to track down Ghosts haunting a number of locales. Sniff out paranormal activity with the P.K.E. Meter and charge it to unleash a short-range pulse disabling Ghost movement. Unveil hidden rifts acting as the Ghost's spawn points and teleportation portals, and destroy them. Use the powerful Particle Throwers to capture the Ghost, deploy a trap, and wrangle them into it before they escape!
Meanwhile, the Ghost works alone, roaming around stages like the Museum, an abandoned Prison, and other spooky locations, including a new one to be revealed at Gamescom. Frighten civilians to scare them away. Possess objects to raise the overall Global Haunt percentage, to regain ghost power, or just cause mass hysteria. Use slime to temporarily stun Ghostbusters. Move the rifts to keep them guessing, summon minions to make an escape, and show the Ghostbusters they should be afraid of this Ghost!
Ghostbusters: Spirits Unleashed will be available on October 18 via PC, Epic Games Store, PlayStation 4|5, Xbox Series X|S, and Xbox One. Pre-orders are available starting today!
In order to check out the full trailer for Ghostbusters: Spirits Unleashed check it out RIGHT HERE!!
'The Midnight Club' Gives Us a Peek at the Latest From the Minds of Mike Flanagan and Christopher Pike
To those before. To those after. To us now. And to those beyond. Seen or unseen. Here but not here. Christopher Pike's The Midnight Club is a classic. That is why it is so great to see these characters come to life in the first tease from the series.
Christopher Pike's The Midnight Club is a classic. That is why it is so great to see these characters come to life in the first tease from the series.
It is a short tease but, one that those familiar with the works will be really excited to see. The characters in The Midnight Club are larger than life with their big hearts and stories, so putting physical faces to these is really great.
The synopsis for The Midnight Club goes like this:
"At a hospice with a mysterious history, the eight members of the Midnight Club meet each night at midnight to tell sinister stories – and to look for signs of the supernatural from the beyond. A new horror series from Mike Flanagan and Trevor Macy's Intrepid Pictures (The Haunting of Hill House, Midnight Mass) and Leah Fong, based on the creative work of bestselling author Christopher Pike."
It is also really exciting to know that the team behind Netflix's The Haunting of Hill House is behind the series as well.
We can't wait to join The Midnight Club when it arrives on Netflix beginning October 7.
Source: (Vanity Fair)
You Can Watch the 1st Episode of the Terry Crews-Starring 'Tales From the Walking Dead' Right Here
The Walking Dead anthology spin-off, Tales from the Walking Dead had its premiere and folks mostly dug the first episode. It stars Terry Crews and Olivia Munn and is titled Evie/Joe.
Crews was super excited about being in the world of The Walking Dead, being a huge fan himself.
"You've got to understand, I was worried. You have to know because I'm a fan too. I am the biggest fan. The last thing you want to be is the guy who ruined the franchise," Crews said "This is a dream. This world is as big as Marvel. It's as big as any other world. And I am a big-time horror, sci-fi fan, and especially of (The Walking Dead)." 
The synopsis for this episode of Tales of the Walking Dead goes like this:
"In a road-trip story, reclusive prepper Joe (Terry Crews) abandons his bunker in search of a female prepper from his past; along the way, he meets an unlikely ally Evie (Olivia Munn) who is his opposite; they team up in an effort to find their lost loved ones."
There are five episodes left after this one. We are dying to check out the one that stars Parker Posey as a publicist trying to "Fake News" her way through the beginning of the Walker outbreak.
The first full episode of Tales of the Walking Dead becomes available below beginning at 1 p.m. CT.