'Documentary for the Recently Deceased' Dives Into the Making of Beetlejuice!
Written by Patti Pauley
What's that you say? Make my millennium? Fine. A making of Beetlejuice documentary is on its way folks!
Now jump in the line, rock your body in time.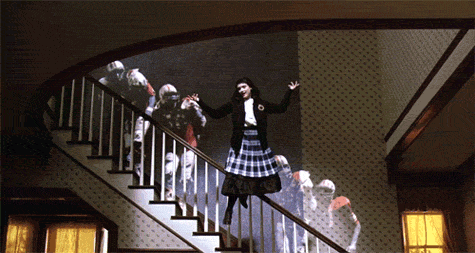 Just a year shy of Tim Burton's majestic film celebrating its 30th anniversary, super BeetleGeuse fan Fred China has set up an IndieGoGo campaign in an effort to bring us the ultimate documentary on our favorite ghost with the most's 1988 movie entitled, Documentary for the Recently Deceased.
The two-hour retrospective, fan-funded documentary will explore the making of this fan-favorite horror-comedy with visits to filming locations plus never before seen set photos, videos, deleted scenes, cast and crew interviews, and a Beetlejuice alternate ending.
Per the IndieGoGo campaign:
"Documentary for the Recently Deceased" will describe all the stages of production from the film's creation to its release. You will get an exclusive view behind the scenes through interviews with the people who took part in the film, especially the magicians from the SFX department who will share their secret insight on the project.
As with any IndieGoGo campaign, the makers behind this super cool looking fan doc are offering some perks for backers willing to contribute towards the film's ultimate goal of $23,000. At the time of this article, close to $7,000 has been raised thus far, and besides the fact the end reward of a goddamn Beetlejuice documentary is a reward in itself, the backer perks are pretty wicked too guys.
Along with such honors as a producer credit and digital downloads of the film once released, the Documentary for the Recently Deceased has banded together with artists to make exclusive merch for the film that is extremely limited and quite, frankly bad-ass.
And hey, if you act now, you get a free demon possession with every dollar you donate!
Documentary for the Recently Deceased will be released sometime in 2018. Stay tuned for more updates!
Spirit Halloween Unveils 'Horror Babies' Including Ghostface, Pennywise, and More
Spirit Halloween is unveiling the goods a bit earlier than usual this year. For example, these little horror babies that give us infantile versions of Ghostface, Leatherface, Pennywise and Sam from Trick r' Treat. We were already excited when they announced all-new Killer Klowns From Outer Space items, but these horror babies are making sure that they bring the goods even earlier.
The breakdown of Spirt Halloween Horror Babies goes like this:
Horror Babies are looking fantastic and bring that very cool bit of nostalgia with them. From Ghostface to Pennywise the lineup is looking fantastic.
Each of these hauntingly adorable Horror Baby is available for purchase for $49.99 on SpiritHalloween.com, now while supplies last.
'Talk to Me' A24 Trailer is Chilling Us to the Bone With New Approach to Possession
The very chilling, Talk to Me reinvents the possession genre by turning the entire genre on its ear and dropping the beat on the terror. Each moment spent in the trailer is very intense and full of atmosphere.
There is a bit of Breakfast Club combined with this intensely moody possession thriller.
The synopsis for Talk to Me goes like this
When a group of friends discover how to conjure spirits using an embalmed hand, they become hooked on the new thrill, until one of them goes too far and unleashes terrifying supernatural forces.
The film stars Sophie Wilde, Miranda Otto, Alexandra Jensen, Joe Bird, Otis Dhanji, Zoe Terakes, and Chris Alosio.
Talk to Me arrives July 28, 2023.
Nicolas Cage Plays a Very Wicked Devil in 'Sympathy for the Devil' Trailer
Joel Kinnaman plays alongside the very wicked Nicolas Cage! Why so wicked you ask? Well cause this time around he is playing none other than the devil himself and he is bringing all of his wicked charm and red hair with it. That's right, the first trailer for the very off the wall Sympathy for the Devil is here.
Okay, is he really the devil? Well, you are going to have to watch to find out. But, it doesn't change the fact that this whole thing looks like its a blast out of hell and a ton of fun.
The synopsis for Sympathy for the Devil goes like this:
After being forced to drive a mysterious passenger (Nicolas Cage) at gunpoint, a man (Joel Kinnaman) finds himself in a high-stakes game of cat and mouse where it becomes clear that not everything is as it seems.
Sympathy for the Devil arrives July 28, 2023!